Specialized Insights for Opting the Right 3 Layer Blown Film Extrusion Machine
Throughout the recent years, the global plastic films market has experienced considerable growth. This development is largely attributed to technological advancements in production methods, notably the introduction of the 3 Layer Blown Film Machines. These machines have allowed manufacturers to produce films with more intricate structures and improved performance characteristics. The present article undertakes an exploration of the fundamental mechanical properties that fuel the technology behind the 3 Layer Blown Film Extrusion Machines. Understanding these principles will help anyone entering the sophisticated market of multilayer blown film extrusion lines to do so with confidence.
3 Key Components that Boost the Performance of 3 Layer Blown Film Extrusion Machine
There are 3 main components of a 3 layer blown film extrusion machine to enhance the machine performance.
1. Extruder Driving Unit - Energy Saving
Within the drying tower, a stream of heated air is directed upward through the ongoing cascade of granules. The capacity of the dryer must align with the required throughput of the polymer and the necessary drying time to ensure thorough drying.
Compared to the conventional motor drive, a significant amount of energy is lost through a belt-driven technique. The novel motor gear concept is projected to save up to 30% energy. The new motor gear promises excellent flexibility and can continue to function without disrupting performance even if one of its four three-phase motors is under service or repair. More importantly, this energy-efficient motor gear boasts a high torque characteristic, compact size, and extremely silent operations, ticking all the boxes for its intended application.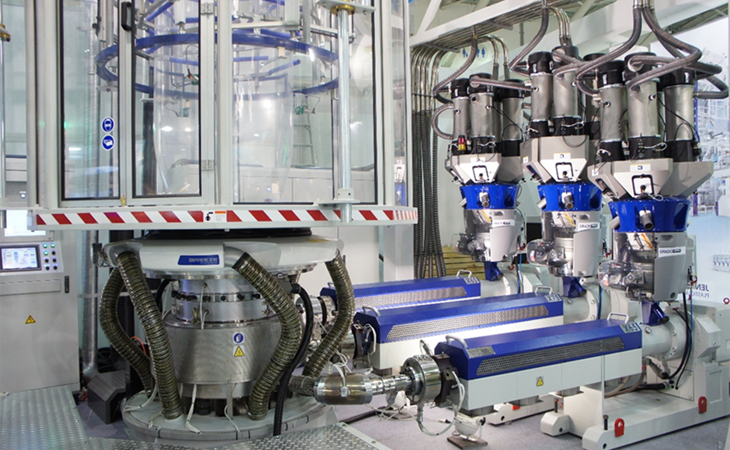 Learn more How to Select Monofilament Extruder?
2. Automatic Material Conveying & Dosing - Accurate and Stable Material Feeding
To produce the high-quality film, particularly for food packaging or stretch films, an efficient material conveyor system is needed. This system comprises a fully automatic vacuum loading system and a revolutionary new gravimetric batch blender, which helps streamline and simplify the whole feeding process.
Modularity to add more ingredients
Improved dosing prevision & reliability
Higher process volume & constant throughputs
Improved gravimetric efficiency
Easier cleaning and maintenance
The complete system is controlled by the same PLC which controls the blending system and operated by the same HMI. Operators simply input the ingredient recipe, the system then automatically takes over the complete material handling process.
3. Automatic Air Ring - High Performance Inspection System
The Cooling Air Ring is a crucial component of the blown film process influencing both production output and quality. Within the automatic air ring are several innovative designs, including an air inlet, air channel, air chamber, and an air lip. These are all intended to normalize the airflow from the air inlets, regulate air pressure, and create a hurricane effect, thus optimizing the cooling efficiency required for achieving and maintaining excellent gauge uniformity.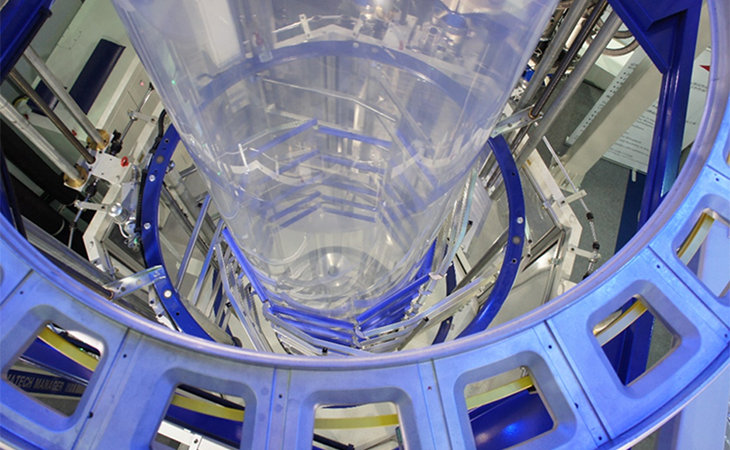 Additional Features of Blown Film Extrusion to Consider – A Symbiosis of Function, Usability, and Beauty
1. Precise Control Systems : Function & Practicability
In pursuit of fully automated and reliable production while meeting energy-saving demands, revolutionary high-efficiency motor gear can be utilized along with modular PLC technology. A complete central supervisory system can be integrated to control the entire blown film extrusion line, from material conveying to finished product. The central touch screen HMI ensures simple, practical operation by providing the operator with all the information required to operate the system clearly and intuitively. The system enables all parameters to be monitored and stored as recipes, making each start-up reliably fast, easy, and repeatable.
2. Design Aesthetics : Mechanical Performance, Operation Logic, Process Procedure
Manufacturers in mature markets have realized that the design of machines should not only consider functional capability but also aesthetic appeal. The machine must place greater emphasis on mechanical performance, operation logic, and process procedure. A modularly constructed machine enhances compatibility. Machine color is determined according to the cooperation identity concept, successfully portraying its aesthetic appeal mechanically and functionally.
Additionally, the user-friendly operation panel is arranged in a neat and orderly fashion with a universal design concept, providing the operator with all the information required to operate the system clearly and intuitively. This ensures simple, practical operation.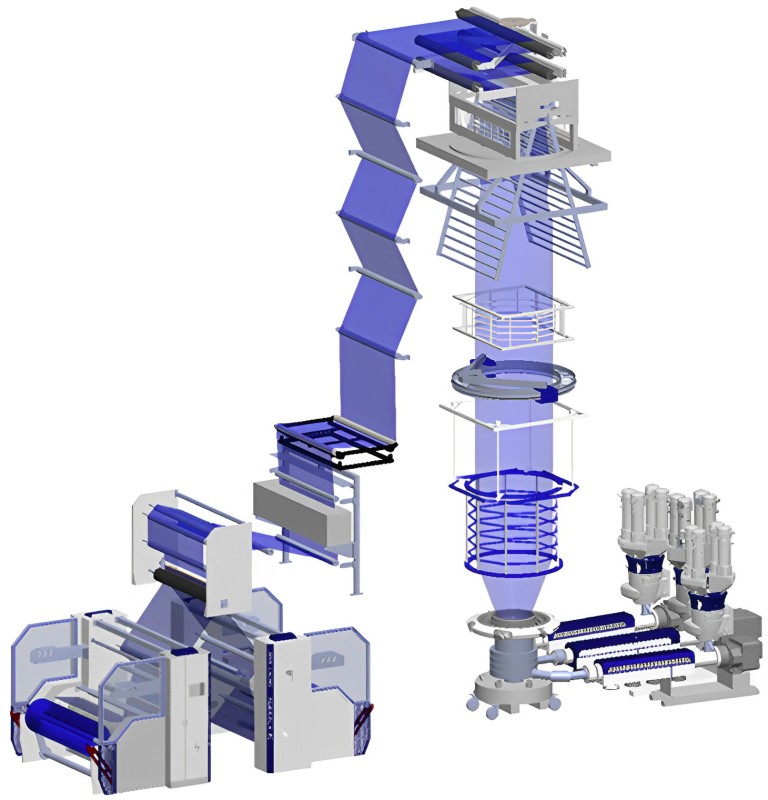 3. Structure, Quality & Precision
To meet global market demand, the all-round machine structure must be designed and constructed to conform to international safety standard certificates relevant to extruder machinery. Overall, the machine must be designed and manufactured with all safety features and devices to protect the safety and welfare of the operator. These include basic floor railing, protection cover, emergency stop button, safety shutdown device, properly indicated safety signs, and warning signs, all in compliance with international safety standards.
Case Study - 3 Layer Blown Film Machine for Food Packaging in Vietnam
In Da Nang, Vietnam, a local business supporting the Japanese seafood industry sought high-quality food packaging film to meet the high standards of their market. They chose the JC-CX Series, specifically the JC-3CX1800 3-layer blown film model, which features 65/75/65 mm extruders and produces 1700 mm wide film. To further customize their solution, additional equipment from Italian brand DOTECO was added, such as a material conveyor, dosing system, internal bubble cooler, and automatic air ring. This ensured precise control and efficiency throughout the entire production process of their world-class packaging.
PLASCO's Commitment to Excellence in 3 Layer Blown Film Lines
Driven by the relentless pursuit of quality and precision machinery to meet the ever-evolving market demands, PLASCO has established itself as a leader in the industry. Through meticulous independent process checks implemented throughout the entire production process, PLASCO consistently enhances product precision, adding unparalleled value to its machinery. This unwavering commitment to excellence has fostered mutually beneficial relationships and opened doors to a plethora of business opportunities.
Innovation and continuous product development have been the cornerstones of PLASCO's long-standing success, deeply embedded within the company's heritage. Today, PLASCO has transcended its role as a mere extrusion equipment supplier. With its extensive knowledge, hands-on experience, and ability to deliver innovative know-how, PLASCO has emerged as a trusted partner, capable of providing customized equipment and product development tailored to specific customer needs.
PLASCO is not just a manufacturer; it is a visionary, a pioneer in the realm of 3 Layer Blown Film Lines. The company's unwavering commitment to innovation and precision has set the benchmark for excellence in the industry. If you seek a partner who shares your passion for quality and cutting-edge technology, look no further than PLASCO.
To learn more about PLASCO's innovative 3 Layer Blown Film Machines or 3 Layer Blown Film Plants, and how they can revolutionize your production process, send us an inquiry through our contact us page.
For more information on monofilament yarn making machines, please read our blog post 4 Monofilament Yarn Making Machine Trends. To learn more about the monofilament extrusion process, please consult our comprehensive guide. We also offer PP/PET strapping band making machines, which are a solution for the packaging industry.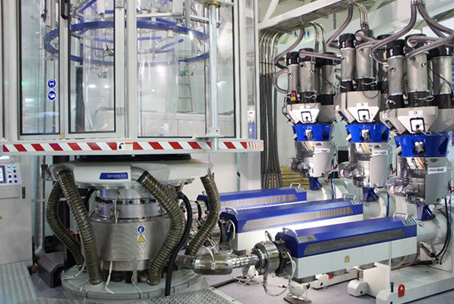 No. 90, Nanpi Rd., Nanxin Vil.,
Taibao City, Chiayi County 61251, Taiwan
Phone: +886 5 2376175
E-Mail:
[email protected]